Welcome to
R2-D2Builder.com
An Astromech Droid Building Experience!

HOME FAQ R2-D2 BUILDER EVENTS PARTS TUTORIALS COOL STUFF LINKS
R2-D2 2015 EVENTS R2-D2 2014 EVENTS R2-D2 2013 EVENTS R2-D2 2012 EVENTS R2-D2 2011 EVENTS R2-D2 2010 EVENTS R2-D2 2009 EVENTS R2-D2 2008 EVENTS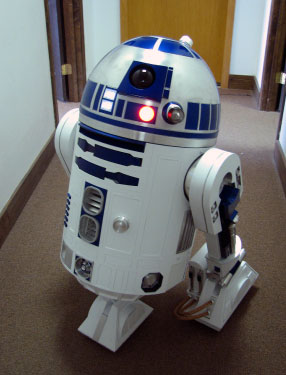 FAQ
In 2007 I started building and in 2008 I finished building a remote controlled all metal (Aluminum & Steel) Blue-White R2-D2

ABOUT R2-D2
R2-D2 (called R2, or "Artoo" for short), is a fictional character in the Star Wars universe.
R2 is one of the only four characters - the others being Anakin Skywalker/Darth Vader, Obi-Wan Kenobi,
and droid companion C-3PO - to appear in all six Star Wars films.

The original R2-D2 chassis was specially created by Australian firm Petric Engineering
and was precision made to a high standard with small tolerances.
R2-D2 was played by Kenny Baker in five of the six Star Wars films,
(though credited with appearing in Revenge of the Sith, he never filmed any scenes)
with many scenes filmed using mechanical and computer-generated imagery (CGI) versions of the character.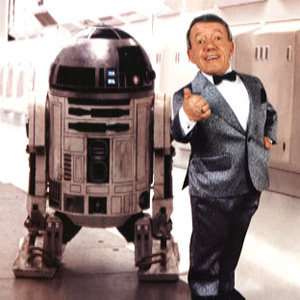 R2-D2
Droid type: Astromech droid
Manufacturer: Industrial Automaton
Gender: none/said Male
Height: 0.96 meters (3'2")
Sensor color: Blue and white
Home planet: Naboo
Master (owner): Padmé Amidala, Anakin Skywalker, Captain Raymus Antilles, Princess Leia Organa, Luke Skywalker
Affiliation Galactic Republic, Rebel Alliance, New Republic, Galactic Alliance, Jedi Order

BEHIND THE SCENES
There were a total of 15 R2-D2s on the set of Attack of the Clones.
Eight were radio-controlled; two were worn by Baker;
the remainder were stunt models that could be moved by puppet strings or towed by wires.
The sound effects for R2-D2's "voice" were created by sound designer Ben Burtt,
using an ARP 2600 analog music synthesizer, as well as his own vocalizations processed through other effects.
The name R2D2 originated from Walter Murch, the cutter of Lucas' second movie American Graffiti.
When cutting the movie together with Lucas, Walter Murch asked for "R2, D2" --meaning "Reel 2, Dialog 2".